Feb
26
In instalment 30 of the Taming the Terminal series I showed how SSH keys can be used to more securely and conveniently connect to servers. The instructions in that instalment are for Linux-like OSes (including MacOS) where the standard OpenSSH tools are available.
Windows doesn't ship with OpenSSH (or indeed any SSH implementation), so Windows users who want to SSH need to install some kind of additional software. With Windows 10 there is the obvious option of installing the Windows Subsystem for Linux, but people may prefer a GUI experience. The obvious choice for Windows users is the venerable free and open source PuTTY suite of tools.
The PuTTY SSH client itself is easy to use, and if you install the full suite of apps via the MSI installer (available on their download page) you'll also get a GUI for generating SSH keys named PuTTYgen.
Jan
23
This is not a detailed or in-deapth review, as the title suggests, these are just my first impressions. A detailed review will come later, if not on this blog, then on one of the Podcasts I contribute to. In the interests of full disclosure, I also want to mention that I didn't buy my copy of PSE 8, it was a gift from Victor of the Typical Shutterbug and Typical Mac User Podcasts as a thank-you for the contributions I make to his shows. But, to be clear, it was not a gift from Adobe or anyone in any way related to Adobe. I should also say that, historically, I've never had a very high opinion of Adobe or their software. I've generally looked at their stuff as bloated, insecure, over-priced rubbish. Perhaps a little over-the-top, but certainly not without valid reasons. However, Photoshop is THE definitive photo editing software, so I'm determined to give PSE 8 a fair try.
Aug
23
If you follow me on Twitter you'll have seen me vent my frustrations with ScreenSteps earlier this week. I held off on writing this review for a few days to get a bit more experience with the app, and to give myself some time to decide how best to phrase my issues so they don't come across as being overly negatively. The short version is that I'm very conflicted about this app. Without a shadow of a doubt their idea is sound, as is their basic architecture. However, I found a few aspects of the interface exceptionally frustrating. Some parts of the app suffer from poor usability in my opinion, and another lacks what I consider to be very basic features. Ultimately, what's missing is some fit and polish. However, it can't be denied that the app works, which is obviously very important. I hope you can see why I'm so conflicted about this app. I want to love it, but I can't – at least not this version.
Nov
29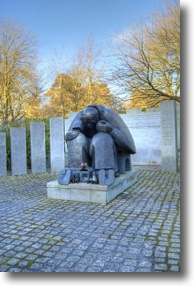 Anyone who's been following this blog for a while will know that I've been experimenting with HDR for most of this year. I started off with the cheapest solution I could find so that I could be sure I really wanted to go down this road before spending a lot of money on more professional software. It can't be denied that I got some good results with the process I've been using until now, but I was never completely happy with the results. In particular the level of haloing was really starting to annoy me. Today I bit the bullet and spent $99 (about €80) on the stand-alone version of Photomatix Pro from HDR Soft. The reason I went for the standalone version is that I don't have photoshop and am not planning to buy it any time soon (probably never as long as it costs extortionate amounts of money). I haven't had much time to play with it yet but I though I'd share some of my initial thoughts and results.
Jun
21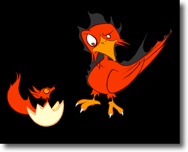 I've been recommending FireFox for years now. In fact, I've been using it as my primary browser since it was called FireBird. It has been a more secure and a more feature-rich choice for years. (If you're interested in the security aspects then you might enjoy reading a recent article I wrote for the International Mac Podcast blog comparing Safari and FireFox from a security point of view.) What got me hooked on FireBird was it's plugin architecture. The idea of being able to customise my browser really appealed to me and as FireBird has grown into FireFox the list of available plugins has grown too. No other browser is as expandable as FireFox. If you can think of it, the chances are someone's written a plugin for it!
However, FireFox has long suffered from two major shortcomings, memory leaks you could pilot a large ship through, and a non-native look. FireFox has been chewing up insane amounts of RAM for years, and has always looked like a fish out of water, particularly on OS X. These two problems are both fixed in FireFox 3 and if that was all they'd done I'd be recommending it highly, but they've done much more.
[tags]internet, browser, FireFox, FireFox 3[/tags]
May
31
This week's Leopard update from Apple sparked a thought in my head that's been brewing for a while now. Three Dead Trolls in a Baggie seem to have been on to something when they sang Every OS Sucks a few years back (lyrics – video).
[tags]Leopard, OS X, Mac, Apple, Vista, Microsoft, Linux, Three Dead Trolls and a Baggie[/tags]
May
14
A phone call I got from my Grandfather this evening set me thinking about OS choices for non-experts and Windows in particular. I'd been dreading and expecting this call ever since he got Broadband last year. Although my Grandfather was the first person in our family to buy a PC the internet is new to him. For a man of his generation he is a positive technophile. His first computer was an 80286 from Amstrad and he's never been without one since. He's always bought computer magazines and for a long time he was always the person in our family with the most up-to-date machine (I've taken over that position in recent years). When my parents (and hence me) were using a 386 he had a 486. He was also the first in our family to use Windows 95, and the first to get a Pentium processor. He was also the first, and hence only, member of our family to go Windows ME, so glad he took that bullet for the rest of us 🙂
Anyway, I think you get the point, when it comes to computers my Grandfather is no ordinary Grandfather, however, when it comes to the internet he is. Broadband only became available to him last year so he's only had it since then. He's in love with Skype, adores internet banking, and is getting to grips with email and googling. So what call did I get today? The call to say he'd been infected with malware, something calling itself WinFixer which is demanding money to fix what ever it's broken.
[tags]Windows, OS X, Linux, Internet, Viruses, Spyware, Malware.[/tags]
Apr
16
Following on from last week's expiry of Beta 2 of their Remote Desktop Connection software for the Mac MS have released Beta 3 this week. I've just given it a quick test-run and the bottom line is that I'll be sticking with CoRD rather than changing back to MS Remote Desktop Connection. All in all this beta is a bit of a mixed bag.
First, the good stuff:
The annoying nag screen telling you to update is gone, yay! 🙂
When you enter your login details they are actually correctly passed on to the target machine so auto logging in now works for me where as it always failed with Beta 2.
There is now a simple option to start a new session: File -> New Connection. This has been missing for so long that I'm happy to see it. Unfortunately it's badly implemented, it opens an entire separate instance instead of opening a second window within the one instance. Far from ideal but a step in the right direction none-the-less.
KeyChain integration seems to actually work properly now.
As well as the short-comings in the way multiple simultaneous sessions are handled there are also another few down sides:
The application still crashes each and every time I try to disconnect from a server.
Rather than use Apple's crash reporter MS have replaced it with their own which send the info straight to Redmond (good), but unlike the Apple one it does NOT show you what it is sending before it sends it. So God only knows what all is being phoned home to Redmond!
[tags]RDP, Remote Desktop Connection, Microsoft, Windows, Mac, OS X, CoRD[/tags]
Apr
10
At the request of @indieradiochatt this is just a quick and dirty guide for accessing a Windows XP machine from your Mac using RDP. The first step is to enable Desktop Sharing on your Windows box. To do this you go to the System applet in the Control Panel and select the Remote tab. Then just check the Allow users to connect remotely to this computer checkbox (see screen shot). If you use the Windows firewall this is all you'll need to do, if you use a custom firewall you'll have to figure out how to let in RDP traffic.
Then you just need an RDP client for the Mac like Microsoft's Remote Desktop Connection or the free and open source CoRD. You should now be able to connect to your Windows XP machine with either of these clients using the NetBIOS name of the Windows machine (or its IP address), your Windows username & password and your Windows Domain (if applicable). That should be all there is to it.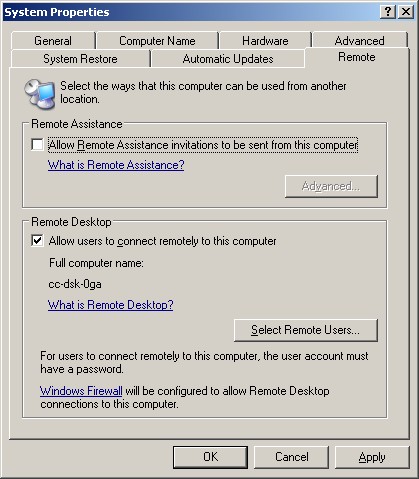 [tags]Remote Desktop Protocol, RDP, Windows, Mac, CoRD[/tags]
Apr
6
In work I have a G5 PowerMac but I need to run one Windows application (our call tracking system). Since it's not possible to run Windows on a G5 using Parallels or VMWare I use an RDP client to connect to a Windows machine I have in the office for testing purposes. Up till this week I've done this using Microsoft's own RDP Client for the Mac. The first version of this client was very basic but functional. Last year Microsoft released two beta versions of the up-coming 2.0 release and I've been using those since they came out. These betas were an improvement on the 1.0 version but they are far from perfect and crash just about every time I close a connection. If it has to crash that's probably the best time but still annoying However, this Week the annoyance factor for the MS client took an upward turn.
[tags]Microsoft, Remote Desktop Protocol, RDP, OS X, Apple, Mac, CoRD, SourceForge[/tags]
keep looking »