Podcasts
Podcasts I Produce
In September 2013 I launched Let's Talk Podcasts. There are two separate shows, but I host both and both are panel discussions.
Lets's Talk Photography is released in the middle of each month. I gather together a panel of fellow photographers to discus a topic related to the art and craft of photography. The show is religiously brand-agnostic because brands have no bearing on the creative process. If you're looking for the latest news, a detailed review of the latest lens, or an argument about whether Nikon is better than Canon, this is not the show for you. On the other hand, if you'd love to hear a discussion on the finer points of composition, or some idea for getting over a slump in inspiration, or some approaches for shooting eye-catching landscapes, then I think you'll enjoy this show.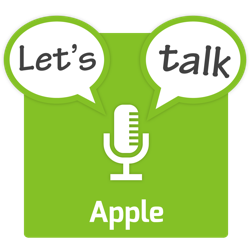 Let's Talk Apple is recorded at the end of every month. I gather together a panel of fellow Apple aficionados, and we take a big-picture considered view of the month's Apple news. If you're looking to hear the news as it happens, then you can't do better than Ken Ray's daily Mac OS Ken podcast, but if you'd also looking for some analysis of that news to put it into context, then Let's Talk Apple is for you.
Podcasts I Contribute To
As well as producing my own podcasts, I also contribute to a number of other podcasts:
The Nosilla Cast Mac Podcast

"A technology geek podcast with an eeeeever so slight Macintosh bias"

This podcast is run by the wonderful Allison Sheridan, and can be found at www.podfeet.com. I contribute to a bi-weekly segment called chit-chat across the pond in which myself and Allison talk about what ever tech related fun we've been having for the past week. The topics range from security to software reviews to photography to pretty much anything we can get away with calling techy 🙂 The segment is not scripted and very informal.

The Mac Round Table

The idea of the Mac Round Table is that they have a large pool of panellists who are all Mac podcasters and twice a month a sub-set of this large pool of panellists gets together on Skype to discuss some random Apple related topics. I'm very honoured to have been invited to join the pool of panellists. You can find out more about the Mac Roundtable Podcast at www.macroundtable.com
In the past I also contributed to a number of podcasts that have since gone into the digital night:
Eye on the Sky (official podcast of the Irish Federation of Astronomical Societies)
The Typical Mac User Podcast
The Typical Shutterbug Podcast
The International Mac Podcast