Jan
13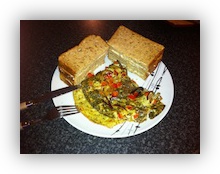 Following on from last week's Bolognese recipe, I thought I'd share an omelette I often make with left over ingredients the next morning. This is very much a non-scientific thing, just take these amounts as guidelines. This recipe makes one generous omelette, I prefer to use two pans when I do this for two people rather than doubling everything in one pan because I don't like my omelettes too thick.
Here are the ingredients I suggest:
1 Small Red Onion
½ Red Pepper
2 Large Eggs
Salt, Pepper & some Herbs
Jan
5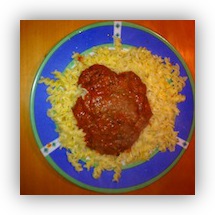 This is a recipe I learned from my mother, and then improved on, and now she does Bolognese my way! Sharing at it's best 🙂
Anyhow, since this is a more complex recipe, I thought I'd start with an ingredient list this time:
4 red onions
4 cloves of garlic
1½ to 2 red bell peppers (can use other colours of you prefer)
2 400g tins of chopped tomatoes (I like to use organic)
500g of minced beef
½ a tube of tomato puree (which is about 70g)
pasta of your choice (I use Gluten Free pasta from the Tesco Free From range)
A good selection of dried herbs, and fresh Basil and Parsley if possible
This recipe will make 4 generous portions.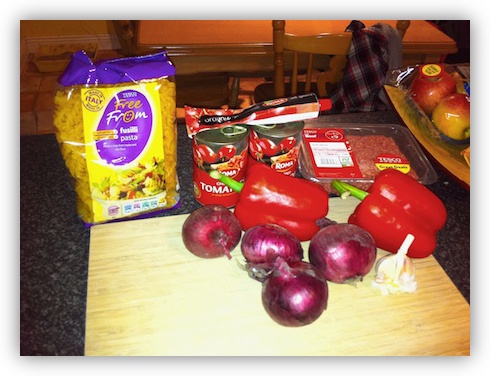 Dec
28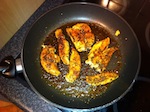 This is the first post in what I expect will become a semi-regular series on this blog. I've always enjoyed cooking, but I never thought to blog about it because I consider the food I cook to be very simple and not all that interesting. But, people keep asking me how I cook things, so I figured I may as well share my 'secrets' here. If you're wondering what kind of food you'll find here, I think I could best describe it as simple and wholesome. I hate processed foods, so I try to cook with as many fresh ingredients as possible. As for the style – it's very eclectic. I neither like bland food nor spicy food, so I tend to cook things that have a lot of flavour, but aren't spicy – a little tangy maybe, but never spicy.
I promise I'll get to the first recipe in a moment, but before I do I want to share my ethos on cooking. For me it's all about sharing, what's the fun in cooking a nice meal if you can't share it? And what's the fun in sharing food if you don't also share ideas and methods with people? I'm always changing how I cook things, and I'm always learning from people. I get ideas and I edit them to make them my own. The best thing that could come out of this series of posts for me is that I inspire people to customise and change my recipes and to share their thoughts and modifications with the community here.
« go back