Jan
5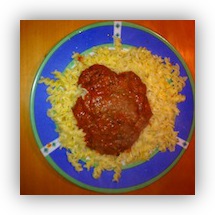 This is a recipe I learned from my mother, and then improved on, and now she does Bolognese my way! Sharing at it's best 🙂
Anyhow, since this is a more complex recipe, I thought I'd start with an ingredient list this time:
4 red onions
4 cloves of garlic
1½ to 2 red bell peppers (can use other colours of you prefer)
2 400g tins of chopped tomatoes (I like to use organic)
500g of minced beef
½ a tube of tomato puree (which is about 70g)
pasta of your choice (I use Gluten Free pasta from the Tesco Free From range)
A good selection of dried herbs, and fresh Basil and Parsley if possible
This recipe will make 4 generous portions.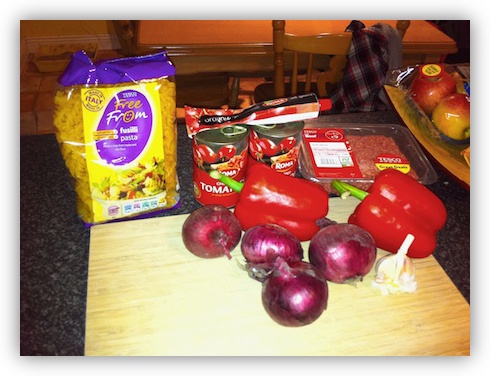 With that out of the way, lets get stuck in. Start by chopping the onions, and adding them to a fairly large saucepan with some oil, as always I like to use a mix of olive oil and vegetable oil. Don't worry about chopping the onions (or anything else) too finely, the whole lot will be going into the blender anyway!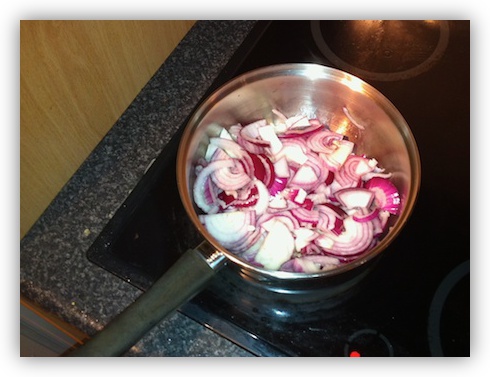 While the onions cook you can chop the red peppers – I like to use two whole ones, but that may be too strong for some people, so feel free to use less. I also use this opportunity to peel the garlic cloves. I use one of those fancy garlic presses to mush my garlic, I think that really brings out the flavour. If you don't have one of those, you can get nearly the same effect by crushing your cloves under a big knife to get the juices out, and then chopping the remains finely.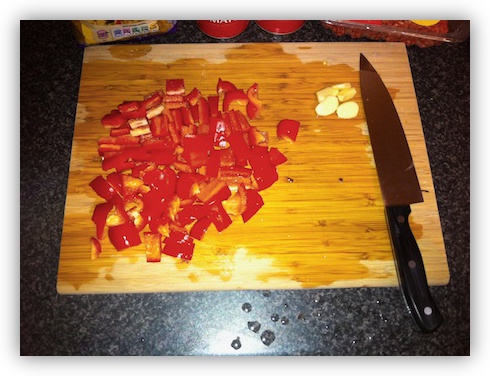 When the onions are nearly cooked add in the crushed garlic and let that cook with the onions for a few more minutes before adding in the chopped red peppers and a small dash of water to stop things sticking to the bottom of the pan until the peppers are cooked enough to release their juices. Stir regularly, and keep the heat to medium rather than to high.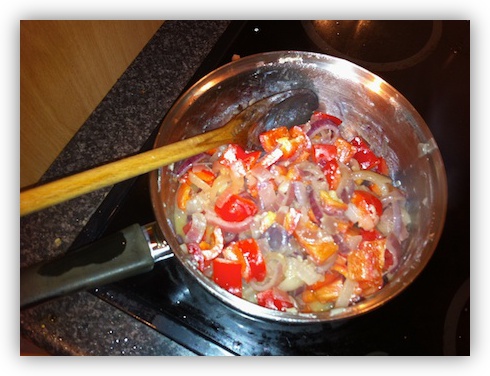 while the onions, garlic, and peppers are cooking heat some oil in a wok, season the minced beef, and add it to the wok. I just season it with freshly ground black pepper and some freshly ground sea salt. At this stage it's important to keep stirring everything well.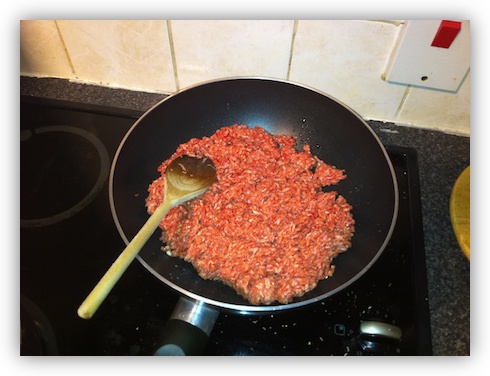 When the peppers are nice and soft it's time to add the two tins of tomatoes (I use the entire contents of the tins, I don't drain them). Mix them in well and let the whole thing come to the boil. Remember to keep stirring it well, this stuff really wants to stick to your pan! While the sauce is coming to the boil it's a good idea to either boil a kettle full of water, or bring a pot full of water to the boil on the hob. Let the sauce boil away for a while until everything in it has gone to mush. You may want to turn down the heat on your beef if it's cooking too fast. When everything in the sauce has gone to mush it's time to put on the pasta.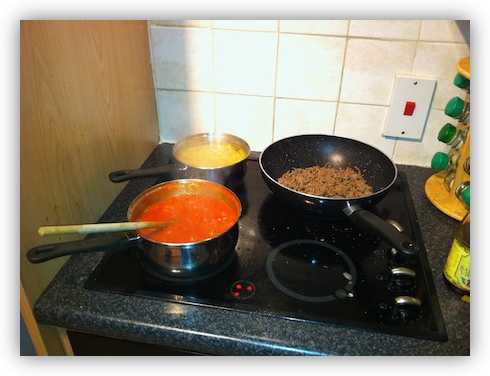 While the pasta is cooking, use a food processor or a hand blender to blitz the sauce. I like to get all the lumps out. When it's fully blitzed, add in half a tube of tomato puree and blitz again to get it mixed in. Pour the blitzed sauce back into the saucepan and put it back on the hob on a LOW heat (it will want to splatter badly). Now comes the most crucial bit, the seasoning of the sauce. Ground black pepper and salt are an absolute must, and so is a generous helping of parsley (fresh is better, but dried will do), Herbs de Province, Basil (again, fresh is best), and Oregano. Then add a smaller amount of Thyme, Rosemary, and Marjoram. If you have dried chives you can add those too. Taste frequently and keep adding more of the various herbs till you get a balance and level of flavours you like. Don't be afraid to add LOTS AND LOTS of herbs, if the sauce is not laced with green bits you haven't added enough! When you're happy with the taste, add to the wok with the beef (assuming it's cooked through by now), mix well, then let it simmer away until the pasta is done.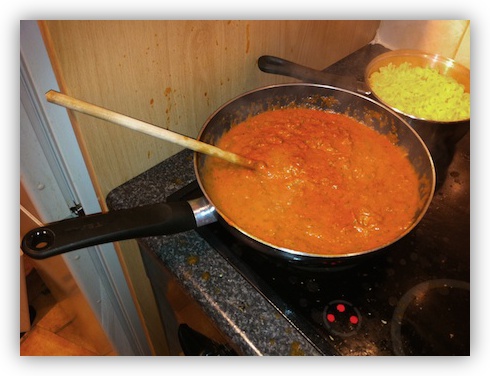 When the Pasta is ready – serve! This goes really well with a somewhat spicy red wine, I really love drinking a nice Chianti or Rioja with this dish. A good Burgandy/Pinot Noir can work well too, but it has to be a good one, a poor Burgandy will be overpowered by this dish.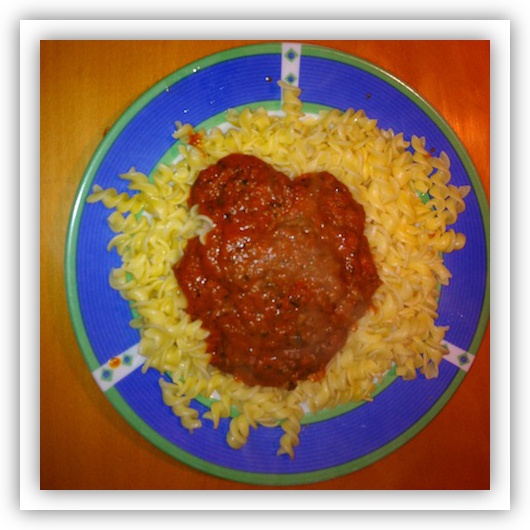 If you want to make a delux version of this dish, and have a big enough cooker to fit another pan onto the hob as well as the wok, the saucepan and the pot we already need, you can also pan-fry some button mushrooms and slices of courgette and add those in after the sauce is blitzed and seasoned. I like to fry both the mushrooms and courgettes separately, but both in olive oil. When I do the mushrooms I season them with salt, crushed black pepper, Thyme and Rosemary. I also add the juices into the sauce as well as the mushrooms themselves.
Comments