Mar
11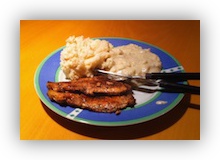 This isn't so much a recipe as a quick and simple tip for making fried pork taste great. You can use regular pork loin chops, or some of the more exotic cuts like gigot Chops.
All you'll need is your pork, some ground Nutmeg, crushed black pepper, salt, and a little vegetable oil.
Jan
23
This week I thought I'd share my favourite way to cook steaks. Despite the fact that I do marinate the steaks, you don't have to do any prep work the day before or even a few hours before. You can leave the steak marinating while you prepare the rest of your meal, it only needs about 20-30 minutes.
Since this recipe describes the process per-steak, it'll yield as many steaks as you make 🙂 As for ingredients, the amounts will vary depending on the size and number of steaks you do, but you'll need the following:
The steaks of your choice (I love Strip Loin)
A few cloves of Garlic
Lemon Juice
Balsamic Vinegar
Olive & Vegetable Oil
Fresh or Dried Rosemary
Freshly ground Black Pepper & Salt
Jan
5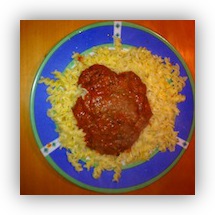 This is a recipe I learned from my mother, and then improved on, and now she does Bolognese my way! Sharing at it's best 🙂
Anyhow, since this is a more complex recipe, I thought I'd start with an ingredient list this time:
4 red onions
4 cloves of garlic
1½ to 2 red bell peppers (can use other colours of you prefer)
2 400g tins of chopped tomatoes (I like to use organic)
500g of minced beef
½ a tube of tomato puree (which is about 70g)
pasta of your choice (I use Gluten Free pasta from the Tesco Free From range)
A good selection of dried herbs, and fresh Basil and Parsley if possible
This recipe will make 4 generous portions.