Mar
11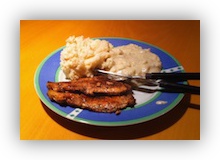 This isn't so much a recipe as a quick and simple tip for making fried pork taste great. You can use regular pork loin chops, or some of the more exotic cuts like gigot Chops.
All you'll need is your pork, some ground Nutmeg, crushed black pepper, salt, and a little vegetable oil.
Feb
15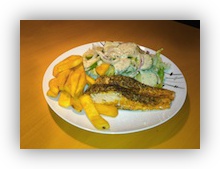 Just a very simple recipe today – not sure it even counts as a recipe, more of a quick tip really. One of my favourite ways to cook salmon fillets, or indeed salmon steaks is to simply pan-fry them with the appropriate seasoning.

Jan
23
This week I thought I'd share my favourite way to cook steaks. Despite the fact that I do marinate the steaks, you don't have to do any prep work the day before or even a few hours before. You can leave the steak marinating while you prepare the rest of your meal, it only needs about 20-30 minutes.
Since this recipe describes the process per-steak, it'll yield as many steaks as you make 🙂 As for ingredients, the amounts will vary depending on the size and number of steaks you do, but you'll need the following:
The steaks of your choice (I love Strip Loin)
A few cloves of Garlic
Lemon Juice
Balsamic Vinegar
Olive & Vegetable Oil
Fresh or Dried Rosemary
Freshly ground Black Pepper & Salt
Dec
28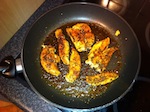 This is the first post in what I expect will become a semi-regular series on this blog. I've always enjoyed cooking, but I never thought to blog about it because I consider the food I cook to be very simple and not all that interesting. But, people keep asking me how I cook things, so I figured I may as well share my 'secrets' here. If you're wondering what kind of food you'll find here, I think I could best describe it as simple and wholesome. I hate processed foods, so I try to cook with as many fresh ingredients as possible. As for the style – it's very eclectic. I neither like bland food nor spicy food, so I tend to cook things that have a lot of flavour, but aren't spicy – a little tangy maybe, but never spicy.
I promise I'll get to the first recipe in a moment, but before I do I want to share my ethos on cooking. For me it's all about sharing, what's the fun in cooking a nice meal if you can't share it? And what's the fun in sharing food if you don't also share ideas and methods with people? I'm always changing how I cook things, and I'm always learning from people. I get ideas and I edit them to make them my own. The best thing that could come out of this series of posts for me is that I inspire people to customise and change my recipes and to share their thoughts and modifications with the community here.