Feb
18
It's hard to believe I've been doing these weekly posts for a year now! I'm so glad this idea worked out, it's really helped my keep blogging and keep taking photos.
This shot was taken in St. Joseph's Square on the St. Patrick's College Campus (AKA NUI Maynooth South Campus) in Maynooth, Ireland. It was taken later the same day as the photo I used for Photo of the Week 50. After it stopped snowing we got a really dramatic sunset over the freshly whitened landscape. It was an amazing sight to behold. The shot was taken from the middle of St. Joseph's Square looking west towards St. Patrick's House, and shows two of the campus's best known landmarks, the President's Arch (the door between the two towers), and the Gunne Chapel (AKA the College Chapel).
Camera: Nikon D40
Lens: Nikon DX AFS 18-55mm (D40 kit lens)
Exposure: 1/160 sec
Focal Length: 18mm
Focal Ratio: F8
ISO: 800
Camera Mode: Aperture Priority
Processing: This image was generated from a single RAW file converted to a pseudo-HDR image and then tone-mapped with Photomatix Pro. You can see the un-tone-mapped version here.
Dec
17
It's become sort of a tradition that each year I give the Christmas lecture for Astro2 (The Astronomy & Physics Society of NUI Maynooth). Each year I give a talk on the Christmas Star and each year I change it up a bit and focus more on different aspects. I really changed the talk up quite a bit this year and got quite a bit deeper in the biblical end of things than I had before. I enjoyed giving the talk this evening, and the audience seemed to enjoy it too which is always nice!
Nov
30
Since the weather was good and I really needed some fresh air I took my proper camera down to NUI Maynooth to take some descent pictures of the devastation caused by last Friday's Fire. It's probably no surprise but there were a lot of people doing the same! I also met one of the dinner ladies who was on duty when the fire started, she'd come to have a look with her partner. She explained how it had started at the back of the building, apparently where workmen were felting the roof, and spread rapidly though the whole building.
I've added the best of my images from today to the Flickr gallery I started on Friday.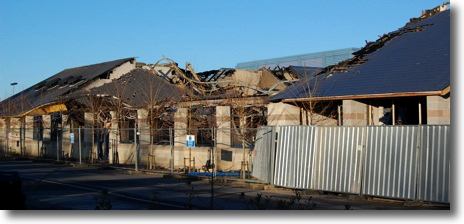 Nov
28
One of the things I like about NUI Maynooth is that it's the kind of place where very little excitement ever happens. You get the odd evacuation because some muppet with a JCB has hit a gas main but nothing ever blows up. Life as a member of staff or a student in NUIM is generally a pleasant, peaceful, and uneventful affair. Today however was a little more dramatic, though you wouldn't think it by reading the official press release from the university:
A small fire occurred this morning in the student restaurant at the edge of the North campus of NUI Maynooth and has since been brought under control …
My definition of a small fire is dramatically different. Surely when you can see the plume of smoke from your office half a mile away and when a building is levelled it counts as more than a small fire?