Dec
17
It's become sort of a tradition that each year I give the Christmas lecture for Astro2 (The Astronomy & Physics Society of NUI Maynooth). Each year I give a talk on the Christmas Star and each year I change it up a bit and focus more on different aspects. I really changed the talk up quite a bit this year and got quite a bit deeper in the biblical end of things than I had before. I enjoyed giving the talk this evening, and the audience seemed to enjoy it too which is always nice!
It occurs to me that I've never published my slides from the talk before so I've uploaded them as a PDD today (minus the video demos). You can download the slides here.
However, for me the best part of the night was a surprise presentation from the Irish Federation of Astronomical Societies (IFAS). I had absolutely no idea there was anything special going to happen after my talk. I was delighted to see the chair person of IFAS at the talk, but I had no idea he had an ulterior motive, let alone that that motive was to present me with an absolutely wonderful gift as a thank-you for my work on www.irishastronomy.org over the years. As anyone who was there can testify to, I was literally lost for words … ME … lost for words! They gave me a framed collection of pins of all the mission patches for all the Apollo missions. It's absolutely fabulous and it will take pride-of-place on my desk. I just can't thank the guys in IFAS enough. It's unbelievably wonderful.
Below is a quick snap of the IFAS chair Michael O'Connell presenting the patches snapped with my iPhone by a helpful Astro2 member, and below that is a picture of the framed patches (not taken with the iPhone!).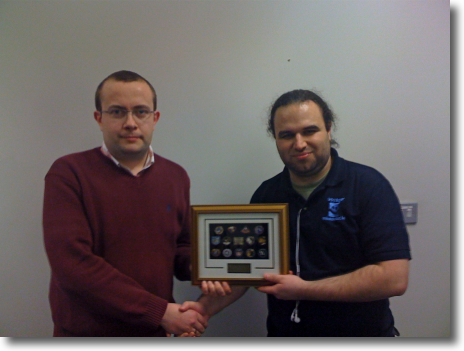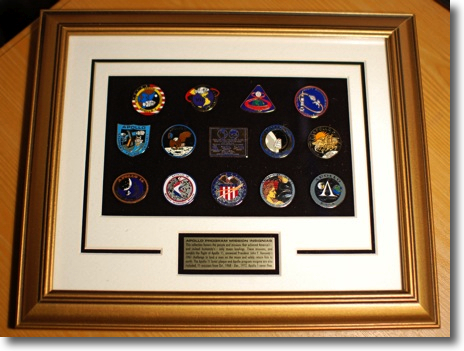 Comments