Apr
16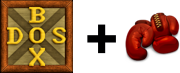 I grew up in the 80s, so I've always had a soft spot for the old DOS games I grew up with. I just loved the Apogee games, particularly Commander Keen and Secret Agent. We've been able to play these games on the Mac for years, but the experience has been a little too authentic. The free and open source DOSBox provides the basic emulation needed to run DOS games on modern PCs and Linux, as well as the Mac, but the experience is far from simple. You have to manually create a configuration file to even get started with DOSBox, and you need to know DOS to get your games installed and to run them. Not a problem for a terminal geek like me, but quite an obstacle for regular folks.
A few weeks ago my Grandfather asked me about running some of his old DOS games on his new Mac, so I looked into DOSBox again, and specifically went hunting for a nice GUI to simplify things. The first three I tried were horrifically poor. The worst kind of 'by geeks, for geeks' free software. Then I found Boxer, and I was just blown away. Boxer makes DOS games as easy to use as any other app on your Mac! The whole design of the project is just genius, and it's been executed wonderfully. Attention to detail and usability are right at Boxer's core.
Oct
9
CodeWeavers recently sent round a mailing about the release of the second beta version of CrossOver Mac. I didn't have time to play with it straight away but over the weekend I gave it a go. The upgrade was not problem free but it did fix one of my problems with CrossOver, IE now seems to work properly.
[tags]Apple, CrossOver, CrossOverMac, OS X, IE[/tags]
Sep
2
Yesterday, Codeweavers released a public beta of CrossOver Mac. This software lets you run Windows programs on Intel Macs without rebooting, without running a virtual machine, and best of all, without installing Windows at all. I've been waiting for this since the switch to Intel, to me this is the Holly Grail! I don't consider BootCamp to be a proper solution, you have to buy Windows and you have to reboot to change OS. Parallels is a step in the right direction, but you still have to buy Windows and you have a large overhead because you have to run two OSes at the same time. CrossOver on the other hand utilises WINE technology to allow Windows Apps run straight on OS X. Your Windows Apps even share your regular file system and home directory. This means you have one file system, the OS X one, so your files are all in the one place and your Windows Apps are subject to OS X's security restrictions. The minute I read the news report on this I downloaded the beta and installed it. This is a quick review of my first impressions.
[tags]OS X, Windows, WINE, CrossOver[/tags] Read more