Jan
15
A side effect of being sick is having a lot of time to kill while avoiding expending energy. Considering I've been ill now for three and half months, that's a LOT of time to kill. On the days that the infection is particularly bad my brain just goes to mush so I melt the day away with some old TV shows (have watched all of the original Star Trek and all of Star Trek The Next Generation already), but on the days that my head is clearer I find Google Earth to be an amazingly interesting way to loose a few hours. It never ceases to surprise me how much of a nation's history is etched into the very land itself. A canal may have been re-routed decades ago, but it's old alignment still affects the boundaries of properties and fields all along it's length. The same goes for that railroad that's been gone for over a century, or that coal mine that closed in the late 1800s. You can look at the street plans of cities like Antwerp and Brussels, and still see the alignments of the old city walls even though they've been gone for hundreds of years. The many wars that have been fought in a country like Belgium also leave their mark, from massive WWII bunkers to beautifully shaped WWI fortresses to Napolionic fortifications to even older castles and towers, to simple things like defensive ditches and banks, and even tank traps. They're all there to be seen on Goole Earth by anyone with the interest and the patience to seek them out.
Anyhow, the point is, maps fascinate me, and I can stare at then for hours, and satellite photos with map data overlaid on them doubly-so. If you don't have Google Earth installed on your computer and/or iPhone or iPad yet, you should stop reading now and go download it from earth.google.com.
Jul
6
I though today might be a good time to share another snapshot of my on-going project to Map all Belgium's railways, past, present, and even to some extent future, with Google Earth. This snapshot is much more complete than the last one, though I still don't consider it even close to finished.
Nov
22
This is not a finished project. Not even nearly. But I think it's about time I shared what I have, and now is the perfect time since it's the topic for this week's Chit Chat Across The Pond segment on the Nosilla Cast.
Jul
17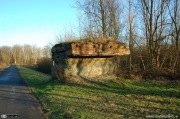 I've loved Google Earth since I first used it, but today I had a real "wow" moment with it. Last Christmas my interest in trains was re-kindled when I took some time to do something I hadn't done in years, shoot some photographs in and around my native village, Duffel. I got some lovely shots of trains but also came across a very curious artefact. A lump of brick, cement and steel with a sign on it. The sign indicated that this strange lump was all that was left of a railway bridge. I looked around, there was nothing even remotely resembling a railway line, or indeed even the track bed of one. It turns out that most of the track bed was ripped up, and used to build the near-by E19 motorway, which runs between Brussels and Antwerp.
Technorati Tags: railway, local history, Google, Google Earth