Jan
29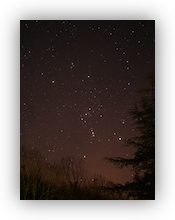 Hard-core astrophotography is very difficult, and requires quite a lot of quite expensive equipment, but, you can do surprisingly much with surprisingly little if you don't set your expectations unrealistically high. The big problem with the night sky is that it moves. Well, strictly speaking it's the earth that's moving rather than the sky, but the point is, stars don't appear to stand still. Normally when you have a subject that's dim, you use a tripod and just leave the shutter open for as long as it takes, but since everything astronomical is always on the move, that doesn't work! The way the pros get around this is with expensive mounts that track the movements of the heavens, opening up the possibility of long exposures. With that problem over-come the pros then run into a whole new set of problems with how noise builds up in sensors over long exposures, so they end up needing some quite advanced techniques and a lot of software and skill as well as the fancy hardware.
I don't have any of the fancy gear, nor any of the fancy software, nor indeed, the skills needed to get good results out of the equipment I don't have! But, I can still get a descent shot of a star field, and all I need is three things:
A camera that will allow manual control of the aperture, shutter speed, ISO and white balance, exposure times of up to 30 seconds, and manual focusing or some form of focus lock
a tripod
A remote shutter release (or, as a work-around, a delayed shutter release mode)
I did also mention that you need realistic expectations, basically, what we're aiming for here is shots of large sections of the sky. Think a nice shot of a constellation. If you have visions of detailed views of spiral galaxies in your head – get them out now – that's for the pros with their fancy kit!
Jan
3
I finished the Steve Jobs biography by Walter Isaacson quite some time ago, but I didn't bother to blog a review because I didn't think I had anything to contribute to the discussion that hadn't already been more eloquently argued by others. But, when listening to John Gruber and Dan Benjamin discuss the book on the Talk Show podcast a few weeks back, they raised a question that piqued my interest, why did Steve choose Walter Isaacson to be his authorised biographer? You have to remember that this biography did not get written because the author was really interested in Steve Jobs and begged and pleaded for cooperation, if anything, the inverse is true. In the introduction to the biography Isaacson explains that it was Steve who asked him to do the book, and that he repeatedly turned Steve down before finally giving in (to the inevitable?). Isaacson specifically mentions that Steve had cited his love of his biography of Albert Einstein as one of his reasons for wanting him as his biographer, so I figured I'd give that a read too, and see if it helped me to understand Steve's decision to head-hunt Isaacson.
Dec
17
It's become sort of a tradition that each year I give the Christmas lecture for Astro2 (The Astronomy & Physics Society of NUI Maynooth). Each year I give a talk on the Christmas Star and each year I change it up a bit and focus more on different aspects. I really changed the talk up quite a bit this year and got quite a bit deeper in the biblical end of things than I had before. I enjoyed giving the talk this evening, and the audience seemed to enjoy it too which is always nice!
Oct
29
They're coming thick and fast now! It's only a few weeks ago that I happily blogged about my friend Dave McDonald becoming only the second person ever to discover an Asteroid from Irish soil. Well, another of the shining lights of Ireland's amateur astronomical community (and another Dave as it happens) has discovered the third ever astroid from Irish soil! Dave is a very active amateur who's involved with both Astronomy Ireland and the Irish Federation of Astronomical Societies. Dave, if you're reading this, congrats!
If you've ever wondered just how much of a needle in a hay-stack an asteroid is check out the observations of the asteroid on Dave's website, the animation in particular rams home the point!
Oct
10
I'm absolutely delighted to be able to say that a local amateur Astronomer and friend of mine, Dave McDonald, has discovered an Asteroid. This is not just a big deal for him, it's a big deal for Ireland. This is only the second ever asteroid discovered here, and the first since 18 something (about 160 years ago). Dave is one of the leading lights in the Irish Federation of Astronomical Societies and was rightly voted Astronomer of the Year last year by the IFAS members. Guess he's a shoe-in for this year too

Dave is the perfect example of an amateur astronomer doing real science. His setup is in many ways quite modest, but he has it tuned to perfection and has really nailed it's operation. Dave is getting more out of his gear than anyone else I know. The asteroid he discovered was an insanely dim magnitude 19. This is also not Dave's first success, last year he made the official confirmation observation of a supernova. I don't know of any other sciences where amateurs can contribute so much real scientific work in this day and age.
You can find out more about Dave at his website, www.astroshack.net.
If you're reading this Dave, I offer my heart-felt congratulations, I knew all your hard work and dedication would eventually pay off and you'd strike gold one of these days!
Aug
29
I was never very good at Chemistry. I cherry picked my way around it for the Junior Cert and didn't take it for the Leaving Cert or as part of my science degree. I never really got beyond the three types of bond and the fact that electrons are in shells and that the amount of them on the outer shell is very important. I don't think I ever considered Chemistry fun. However, I was really impressed by the work of the Chemistry department in the University of Nottingham when I stumbled across it last month. They have created a YouTube video about every single element in the periodic table! I've watched them all over the space of a few weeks (a few a day) and I learned a lot as well as being entertained. You get to see real chemists talking about the elements, as well as doing experiments with some (often involving explosions), and you get to see samples of most of them. Although I always knew what Gold and Silver looked like, I had no idea what Bismuth looked like! What's also cook is that these videos are still being updated and expanded so you can watch the project grow.
You'll find the periodic table of videos at www.periodicvideos.com. They also have a channel on YouTube where you can see all the videos and subscribe to their feed so you never miss an update!
Mar
21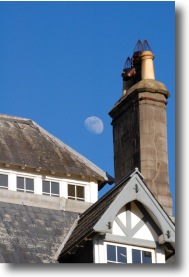 It can be very nice to include the Moon in your shots of buildings or landscapes but it's not easy. The reality is that the Moon is very small in the sky and that it's hard to pick up detail on the Moon while also properly exposing your subject. That's why so many people cheat and get the Moon into their shots using PhotoShop. They stick on a massive zoom lens, shoot the Moon, then stick on a normal lens to shoot their subject and finally combine the two shots into one. If that's the way you want to do things that's your call, personally I look at it as cheating and would prefer to do it the hard way and actually capture the Moon and my subject in a single shot.
Technorati Tags: photography, DSLR, the Moon
Feb
5
The last time I posted on the state of play for free Astronomy software for the Mac things weren't looking so good. At that time your best option was to build the Linux program KStars from source using Fink. A long, complicated, and rather daunting install for anyone who's not a Unix geek. I'm happy to report that things have improved a lot since then. There's now a choice of three apps and you don't have to compile any from source (unless you want to).
Technorati Tags: astronomy, OS X, Stellarium, Cartes du Ciel, KStars
Feb
1
This week I've started on the next rung of the Astrophotography ladder. Until now I was just taking a few hand-held shots of planets in the evening twilight. While they were nice shots, there is a lot more to astrophotography than that! What I've started experimenting with this week is using my very bright F1.4 30mm prime focus lens for longer tripod-mounted exposures. I'm already in love with my prime focus lens but this is yet another reason it's the best €300 I've ever spent. I get a lot more use out of it than I do out of my zoom lenses.
Feb
1
This will be the first of three Astronomy themed posts over the next few days. It's first because it takes the least effort on my part … the other two will have taken more time and effort.
Anyhow, here's the vid.
Technorati Tags: LHC, Science, Dark Matter, CERN
keep looking »