Dec
10
In one of my early Leopard posts I was happy to report that my Epson scanner was working perfectly. However, yesterday when I went to scan it wouldn't work. It kept telling me there was an error communicating with the scanner. I checked the connections and all seemed normal. The only real change there has been on the system since the last time the scanner was used was the update to 10.5.1. I can only conclude that that's what broke it.
Regardless of who is to blame I did eventually find a solution. First, go to the Epson site and download and install the latest drivers for your scanner, the description should explicitly say that it supports Leopard. Then reboot. It doesn't tell you to but I couldn't get the scanner back into life without a reboot. At this stage I found that the Epson Scan utility wouldn't even launch. However, the TWAIN drivers themselves do work so you can scan using Preview.app. I'd never used Preview to scan before and I have to say I'm impressed with the interface. You can scan from within Preview by going to File -> Import Image ....
I have to say I'm a little disappointed with Apple over this, 10.5.1 was supposed to fix things, not break them!
[tags]Hardware, Scanner, Apple, OS X, Leopard, Epson[/tags]
Dec
8
It's been a while since that last time I got some new hardware, I think my iPod Touch was the last bit of new tech I'd gotten before this week. So, this week I made up for lost time and got myself new network printer and a new USB headset. I have to say I'm very happy with both, they just worked, no drivers, no messing. Actual, genuine, plug and play. Oh, and I was testing these on Leopard.
[tags]Apple, OS X, HP, Logitech[/tags]
Dec
1
I've been looking for a good fast fixed-focus lens for a while. It was quite tough because I have a Nikon D40 and very few lenses autofocus on this camera because it doesn't have it's own built-in focusing motor. This means that only lenses that contain their own motor will auto-focus on the D40. After a lot of searching I finally settled on the Sigma 30 mm F1.4 DC lens. It arrived earlier this week so I've been doing a little playing around with it since.
[tags]30mm, Sigma, DSLR, Nikon D40[/tags]
Nov
15
Another one of my iPod Touch gripes has been fixed by Apple with the release of the new 1.1.2 firmware for iPhone and iPod Touch. You can now add calendar events from the iPod Touch. For some insane reason the calendar app on the Touch was re-only before. Since the iPhone has had a full calendar app since the start it just never made sense to me why Apple had removed that feature from the Touch. Maybe it was an oversight or something. What ever the cause was, it's fixed now anyway.
[tags]Apple, iPod, iPod Touch[/tags]
Nov
7
About two weeks ago the battery in my MBP started to behave strangely. It would work normally till it got to about 50% and then die instantly. The battery would die so quickly that the machine would not have time to enter sleep mode and just die. This was starting to annoy me and I was thinking of putting in a call to Apple Care anyhow but yesterday evening it became urgent. While packing up my machine after giving a presentation I noticed that the battery had swollen and warped it's casing. This was obvious because the better no longer sat flush with the base of the laptop and the metal skin on the top had separated from plastic body of the battery (See pictures below).
[tags]Apple, MacBook Pro, Battery, Apple Care[/tags]
Oct
14
At this stage I've run the Touch through everything I ever do with iPods and have found three additional annoyances to the ones I described in yesterday's article. Two can be fixed by simple software updates, one cannot. None of these are show stoppers and don't affect my over-all conclusion that this is a great iPod and a taste of the future.
Poor Support for Older iPod Accessories – I recently bought an iPod compatible stereo thingy for the kitchen and the touch only half works with it. It charges and the sound comes out but the remote does not allow you to play/pause or go forward/back a track. Not the end of the world, but a bit annoying. I believe the iPhone suffers from the same problem.
Long Names Don't Scroll – On my previous iPod when ever it encounters a name that is too long to be displayed the name scrolls so you get to see all bits of it. This works in the menus and on the now-playing screen. The Touch does not do this and it's a real PITA for audio books in multiple parts.
No Sleep Timer – This probably only affects a few people but I normally fall asleep to my iPod so I set a 15 minute sleep timer on it. I can't do that with the Touch so my old iPod now has a permanent place next to my bed 🙂
Update (26 October 2007): As Jon has pointed out in the comments below, you can get sleep functionality, just not in an immediately obvious way.
[tags]Apple, iPod, iPod Touch[/tags]
Oct
13
For people living in the states the iPod Touch is old news by now, but for those of us this side of the pond we've only gotten our hands on them this week. What Americans may also not realise is that we don't have the iPhone over here yet, so for us, this is not just our first taste of the iPod Touch, but of the whole Apple multi-touch thing. I ordered mine the day after the 'Steve Note' that announced it and it just arrived today. I'm a little grumpy that it made it in to shops in Dublin before my pre-ordered one arrived but mine is engraved which it wouldn't have been had I bought it in a shop. Perhaps the engraving makes up for the two or three day delay. Anyhow, for us here in Ireland this is not old news at all, it's big news!
This review is going to take and odd form. The majority of it is going to be dedicated to pointing out the short-comings of the iPod Touch. That may inevitably lead people to assume I'm not happy with it, or worse still, that I hate it. I'm going to pre-empt that right now by saying that this device is superb. It rocks. It's the most revolutionary piece of technology I've ever held in my hands. This kind of touch-based interface is the future, and man, what a future it is! Before today I thought I probably wanted an iPhone whenever they finally make it to Ireland, now I KNOW I want an iPhone! I'll come back to some of the good stuff nearer the end of the review, but first I want to start with the not-so-good stuff.
[tags]iPod, iPhone, iPod Touch, Apple[/tags]
Aug
28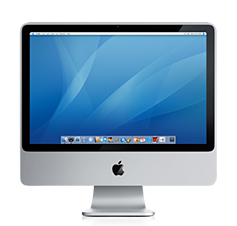 The new iMacs look great in the ads and on the Apple web page, and, on paper, they look like good value for money. That was all I could really say about them until this afternoon, when the first of them arrived here in work. Believe it or not they look even better 'in the flesh', they just make you go 'WOW'. Within moments of the box being opened there was a crowed of curious windows users gathered around it! Apart from the aluminium and glass being nicer materials than the old white plastic, the new case is much better proportioned so the old 'chin' that people complained about with the previous generation of iMacs is effectively gone. Sure, there is still space under the bottom of the screen but it doesn't look out of proportion any more. The second thing I noticed is how much I like the new glossy screens. I'm a big fan on them on the MacBooks and MacBook Pros and I think they also work well on the new iMacs. Everything you load on it just looks shiner than on the old iMacs. The model I played with had the 20″ screen, a 2.0GHz Core 2 Duo processor, 1 GB of RAM, a 250GB hard drive, and cost around €1,200. I didn't get to play with it for long but it seemed very fast and very snappy. I would have no hesitation in recommending this machine to family and friends.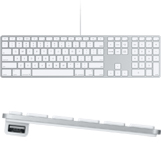 The one thing I was a little worried about with these new iMacs was their new hyper-thin keyboards. So, I opened up Text Edit and started typing. Shockingly the feedback from the teeny keys is fantastic. The keyboard is an absolute joy to use despite how odd, and indeed un-usable, it looks. One of the lads in the office is even thinking of buying one for his PC!

Aug
6
So my new toy finally arrived. It's taken me ages to get my hands on one of these lenses but since Allison has the same one and is really happy with it I wanted to get one too. My very first reaction was one of disappointment. This lens doesn't do auto-focus. Mind you, had I actually read the spec properly before buying it that wouldn't have come as such a surprise 🙂 I was a bit worried about the lack of auto focus for about 5 seconds, till I gave the lens a go! I've been using manual focus for years on my old Olympus OM1 so it's not a problem to use it again. I think I've been a bit spoiled by the great 18-55mm zoom that came with my D40 though.
[tags]Nikon, Zoom Lens[/tags]
May
18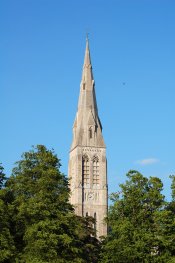 My new Nikon D40 Digital SLR arrived today. My first impressions of the camera are excellent. It is easy to use, ergonomically well designed, and it takes great pictures. What more could you want from a camera!? Because I bought it over the net the only manual that came with it is in German so needless to say I haven't read it! But, TBH, I saw no need to read it because in just a few minutes I was taking pictures as if I'd owned the camera for years. The UI guys obviously did something very right with this camera.
Needless to say I just had to put the camera through it's paces so here are the results of my first experiments (not original resolution obviously).
[tags]Photography, Nikon, D40[/tags]
« go back
—
keep looking »