Nov
30
Since the weather was good and I really needed some fresh air I took my proper camera down to NUI Maynooth to take some descent pictures of the devastation caused by last Friday's Fire. It's probably no surprise but there were a lot of people doing the same! I also met one of the dinner ladies who was on duty when the fire started, she'd come to have a look with her partner. She explained how it had started at the back of the building, apparently where workmen were felting the roof, and spread rapidly though the whole building.
I've added the best of my images from today to the Flickr gallery I started on Friday.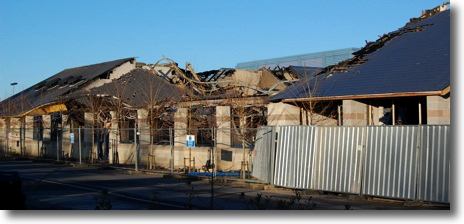 Nov
28
One of the things I like about NUI Maynooth is that it's the kind of place where very little excitement ever happens. You get the odd evacuation because some muppet with a JCB has hit a gas main but nothing ever blows up. Life as a member of staff or a student in NUIM is generally a pleasant, peaceful, and uneventful affair. Today however was a little more dramatic, though you wouldn't think it by reading the official press release from the university:
A small fire occurred this morning in the student restaurant at the edge of the North campus of NUI Maynooth and has since been brought under control …
My definition of a small fire is dramatically different. Surely when you can see the plume of smoke from your office half a mile away and when a building is levelled it counts as more than a small fire?
Aug
31
I finally got around to watching the last (it better be the last) Indiana Jones film. It started well. The silhouette of Indie putting his hat on was fantastic, it felt like we were in for a true Indie film, another classic. Sure, Ford is old, but he's clearly still got it! If only, the opening few minutes were the high point of the film, it was down hill from there. At first we were heading slowly down hill, but the speed soon picked up.
[tags]Indiana Jones, The Kingdom of the Crystal Skulls[/tags]
Mar
7
You hear lots of stuff about how utterly inadequate, mismanaged and generally shambolic the Irish health service is. Those stories are unfortunately true, the experiences of my direct family speak to that. That's why I was so pleasantly surprised by Naas General Hospital this morning. I'm suffering from a very bad chest infection at the moment which my doctor fears has developed into pneumonia. So he sent me to Naas for a chest X-Ray. I got there at 8:40, was seen by 9:10 and on my way home by 9:20. The place was clean, efficiently run and the staff were very nice. I couldn't have asked for a better experience. I'd gone in expecting the worst, that's why I had my laptop, 3G card and iPod with me. As it happens I barely had time to check my email!
Lets hope this is a sign of the things to come and not just an isolated case of efficiency in the Irish health system.
[tags]Ireland, healthcare[/tags]
Jan
23
I don't usually post about what the famous get up to because I think most of the celebrity 'news' we get rots the brain, however, the passing of a great actor is not gossip. I'm sure we'll see lots of gossip about how exactly it happened, there'll be mindless speculation about whether or not it was an accident and so forth. The poor family will be hounded and tormented and denied the one thing they really need, time to grieve, and all in the interest of making the tabloids rich. People might even decry the horrible invasion of privacy while running out to buy the latest red-top with pictures of his grieving family snapped by the tabloid's telephoto-armed hounds. But before things descend to that level, I just want to post my own reflections.
I've always felt a strange connection to Heath Ledger because we're of a very similar age. When I'd see his latest work I'd always find myself thinking, "wow, he's the same age as me, and look what he can do … wow … that's real talent". I've also grown up watching his work. When I was young, he was starring in the kids TV I was watching, and as I grew up, he grew up and went on to star in the Films I was watching. I've always liked his work and I think he had a real talent. For him to die so young is a real loss. It's also strange when people your age start dying. That's just not right!
[tags]actor, Heath Ledger[/tags]
Dec
19
I've commented before about how much I like the new more open JKR we've gotten to see since the release of the last Harry Potter book last summer. Today I got my best taste yet of this liberated Joe on a special surprise episode of Potter Cast. Talk about a fantastic Christmas treat, without any advanced warning the entirety of episode 130 was given over to a long discussion about the books with JKR her self. What's even better is that there's a second part to come next week!
I've just finished listening now and it was fantastic. Very natural, very informative and very entertaining. It's not your typical interview fodder, it sounds like a group of friends having a chat about Harry Potter only one of the friends happens to be the author herself!
If you're a fan of the Potter books you really should have a listen to this episode, even if you wouldn't usually listen to Harry Potter podcasts.
[tags]Potter Cast, JK Rowling[/tags]
Dec
11
Sure, it may be the size of a fridge and have the computing power of a pocket calculator, but there are still things you can use DEC Alpha Server 2100's for. For example, they make great Christmas Tree stands in systems departments 🙂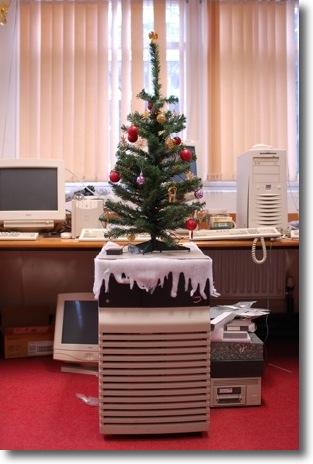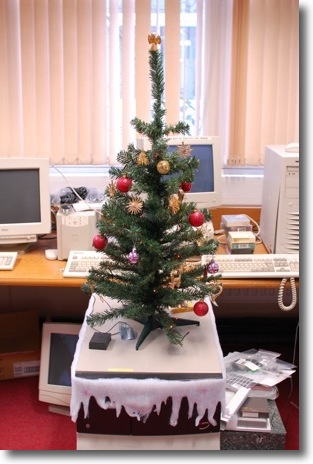 Dec
5
According to this article on Boing Boing the MPAA were hit with a DMCA take-down notice for copyright infringement. I have to say I actually laughed out loud when I heard this first. Then I stopped and thought about it and am just disgusted at their hypocrisy. They spend all their time up on their high horse as defenders of the rights of artists and here they are, violating the rights of a different breed of artist, programmers. I for one can not believe the MPAA are actually genuine about their desires to protect those poor artists copyright when they shit upon the copyright of others from a height. The MPAA is about money, not the defense of the rights of copyright holders and here we have yet more proof of that. Down off your high horse already!
Nov
26
I listen to a lot of podcasts. Loads of them are sponsored by Audible.com and the service they offer sounds fantastic. With that in mind I went to sign up today. I didn't get far. Firstly the US site told me to go to the UK site instead. Pity, there goes my free book for using a promotional link from a podcast. However, their service did sound good so I did as I was told and went over to the UK store. It let me sign up no problem. Took my credit card details and welcomed me aboard. Unfortunately it all went down-hill from there.
Read more
Oct
20
The books may be finished but we still continue to learn more about the characters we have come to love through Joe's comments. I posted before about how great it was to see a more open JKR now that the books are over. It's great to finally get to see her starting to share more of the encyclopedic knowledge she has of her characters and their world. However, I have to admit that I thought we'd heard all the big revelations at this stage. It turns out I was wrong! During her current American tour JKR told an audience in New York that Dumbledore was gay! You can read more in this BBC News article.
[tags]Harry Potter, Dumbledore, gay, JK Rowling, homosexuality[/tags]
« go back
—
keep looking »