Feb
9
It's only been a week since I posted my first thoughts on Twittering on the Mac but already I need to make a correction and two additions. First to the correction, Twitterific is free, the website is just very confusing. You can use it for free but you get ads, and if you pay you don't get ads. I gave Twitterific another go because I was quite hard on it last time. Turns out I was right the first time though, it's not a particularly good client and it's certainly not an inspirational piece of software. There are better clients out there for free.
Last week I mentioned that I had settled on Spaz as my client but that all changed when a listener to the NosillaCast mailed Allison with a link to Twhirl after hearing our segment on Twitter clients in the last show. Like Spaz this is a cross-platform client that uses AIR, the Adobe Integrated Runtime. Compared to Spaz though, Twhirl is a much more polished client. It's more compact and full of the kind of nice touches that really make me fall in love with an application. The only thing I don't like about Twhirl is the colour scheme, it could do with being quite a bit more understated.
One nice touch I particularly like are the four buttons that appear when you hover over a post, one to reply to the poster, one to send the poster an email, one to visit the poster's website, and one to favourite the tweet. I also like that when you reply to someone the icon for that reply is your avatar with a small version of the recipient's avatar superimposed on the bottom-right of it. The integrated interface for shortening URLs is also a great little touch.
Simply put, Twhirl is well thought out, well implemented and well designed. I could just do with a slightly less dazzling coat of paint. Needless to say this is now the client I use on a daily basis and the one I would recommend to both Mac and Windows users.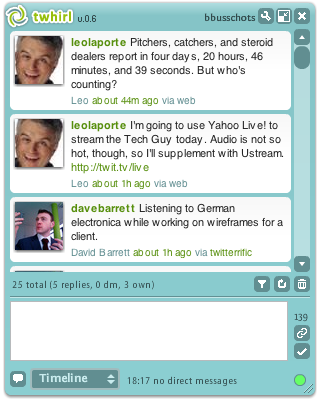 Finally, I should probably also mention TwitterFox. It's a twitter plugin for FireFox that another one of Allison's listeners pointed us at. I gave it a go yesterday and really didn't like it. It uses the same colour scheme as Twhirl but that's where the similarity ends. It's just not polished and not well thought out. For example, every other Twitter client I've tried counts down the number of characters you have left when writing a Tweet, TwitterFox counts up instead, leaving you to work out how many you have left yourself! There is also no way to turn it off that I can find. I ended up un-installing it to get it out of my way.
Comments