Jan
17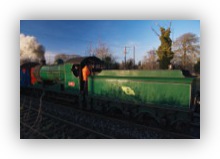 As usual, it's taken me a while to get all my photos and videos from the Santa Special season edited and organised. Mind you, mid-January is a definite improvement over March, which is how late I was last year!
As usual, the Railway Preservation Society of Ireland (RPSI) ran two Santa Specials a day from Dublin to Maynooth to Dublin on the first three weekends of December. The trains were all scheduled to be hauled by the societies recently overhauled 2-6-0 steam loco No.461, which has been painted in the beautiful old CIE green livery. The same loco had been scheduled to run the 2011 trains too, but she was not ready on time, and all the 2011 Santa Specials from Dublin had to be hauled by diesel locos instead. Having missed the Santa Specials No.461 went on to make a decidedly unreliable return to steam over the spring and summer of 2012. Apparently No.461 took a while to bed in after her previous overhaul too, but apparently she did become very reliable over time. Hopes were high that she'd prove herself with the Santa Specials. She almost made it through the whole season, but the last two days proved too much for her, and the final three of the twelve trains had to be hauled by diesel locos.
Unfortunately my health proved to be even less reliable than No.461, and caused me to miss three out of the six days, and hence six out of the twelve trains.