Oct
18
With this double-post I'm finally back on schedule with my photo of the week. Since this is a double-bill I decided to pick a theme, these are my two of my favourite pics shot in my native village of Duffel in Belgium.
The first is a fantastic winter scene that greeted me on the first day of my Christmas holiday in December 2007. When you combine a very thick fog with a very heavy frost followed by a clearance in the morning you get an almost fairy-tale-like scene. I took quite a few shots but this is the one I think worked best.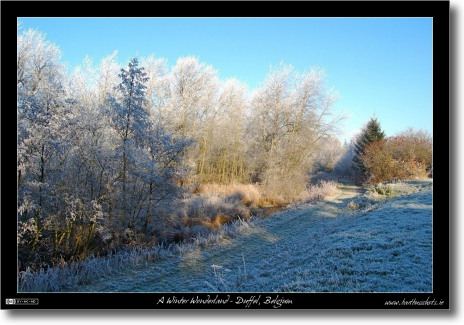 on Flickr – Full-Size
The second shot is of a Thalys express train passing through Duffel with an international express train from Brussels to Amsterdam. These trains are actually French TGVs in a different coat of paint and are part-owned by the national rail companies of France, Belgium, The Netherlands, and Germany. There are very few places where you can get photos of electric trains without pylons in the way, the rail bridge in Duffel is one of those rare places.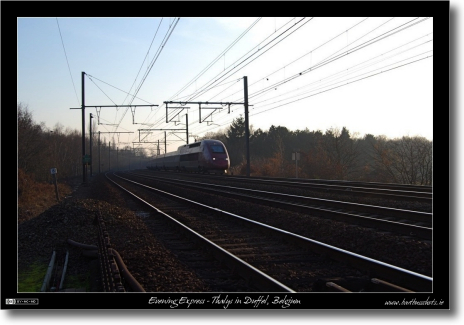 on Flickr – Full-Size
For those of you interested in such things, here are the technical details of the first shot:
Camera: Nikon D40
Lens: Nikon DX AFS 18-55mm (D40 kit lens)
Exposure: 1/320 sec
Focal Length: 18mm
Focal Ratio: F5.6
ISO: 200
Camera Mode: Aperture Priority
Exposure Compensation: 0.33
And of the second shot:
Camera: Nikon D40
Lens: Nikon DX AFS 18-55mm (D40 kit lens)
Exposure: 1/250 sec
Focal Length: 30mm
Focal Ratio: F8
ISO: 200
Camera Mode: Auto