Apr
23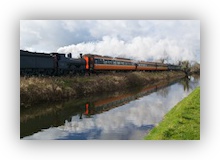 I'm still continuing to get caught up with processing and editing my photos and videos from the last few months. Over the weekend I finished working on the media I shot on the 3rd of March when the Railway Preservation Society of Ireland (RPSI) ran two "Maynooth Shuttle" steam specials from Pearse station in Dublin to Maynooth and back.
Having missed the 2011 Santa Specials because of technical issues, recently overhauled ex-DSER (Dublin South Eastern Railway) loco No.461 was suppose to make it's return to Dublin for these shuttles after a 10 year absence, but, alas, it wasn't to be. The weekend before the specials she encountered some more technical difficulties on her way from RPSI headquarters in Whitehead near Belfast down to Dublin. No.461 did eventually make it out to Maynooth the next day on an empty driver training run, though even that was not an unmitigated success because she was supposed to run all the way to Enfied, but only made it to Maynooth! Still, by early April she was finally ready, and she worked the Spare Link rail tour over two days (pictures and video coming soon).
With No.461's on-going problems, RPSI stalwart loco No.186 stood in for her on the Maynooth Shuttles. Through no fault of No.186 the morning shuttle was over an hour late. Apparently someone had carelessly parked a track maintenance vehicle in front of the turntable in Dublin-Connolly station, so No.186 had to run the whole way around (and partially under) Dublin city to get to the nearest alternative turntable in Dublin-Heuston on the south-side of the city.
Still – it was a good day in all, with some lovely sunny periods between some very heavy showers!
You can see all my shots from the day on Flickr where I've collected them into a set.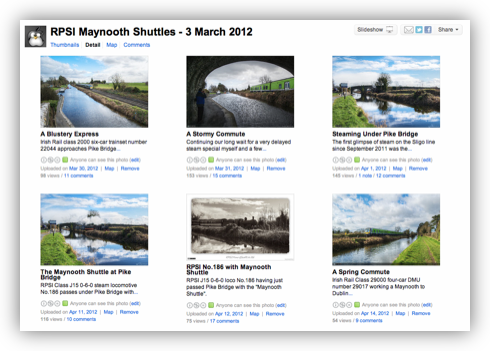 As well as shooting Stills with my trusty Nikon D40, I also shot some video on my new Nikon D5100 (and my iPhone 4 when the D5100's battery died). I've edited the video and some of the stills together into a movie of the day's events which I've uploaded to my YouTube Channel. I've embedded the video below for convenience:
Comments