Apr
9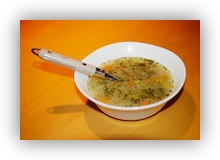 I think every Belgian mother and Grand Mother makes a version of this soup – all very similar, and yet all slightly different. This is my own take on it, which is a hybrid of my Mum's version and her mother's version.
Lets start with a list of ingredients:
Three medium-sized Onions
Three medium-sized Potatoes (accidentally omitted from the photo below, sorry!)
2 medium-sized carrots
2 Sticks of Celery
1 big Leek
1 Litre of vegetable stock
1 to 2 Litres of water
Parsley & Chives (preferably fresh, but dried is OK)
Salt and Black Pepper
Vegetable Oil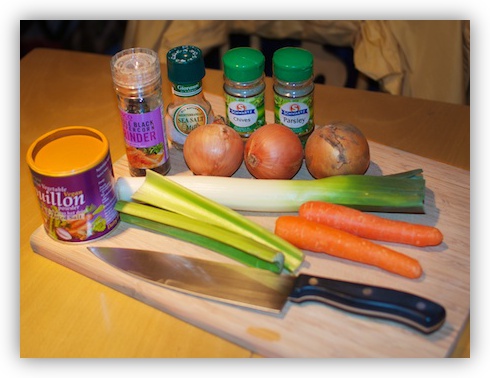 Because this soup will not be blended at the end, it is important to chop all the ingredients finely. Start with the onions, and start them frying in some vegetable oil in the bottom of a large pot on a medium heat.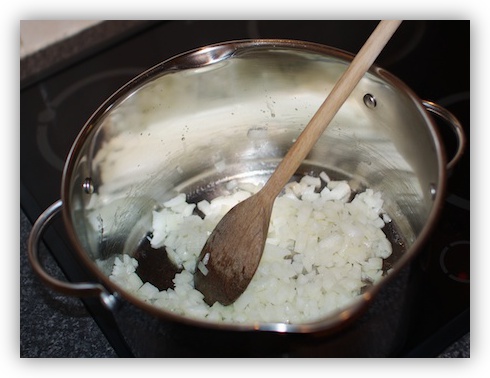 While the onions are softening, chop the potatoes, carrots, celery sticks, and leek. I like to quarter the carrots lengthways before slicing them into thin slices. With the celery I also like to cut it into 3 or 4 strips lengthways before slicing.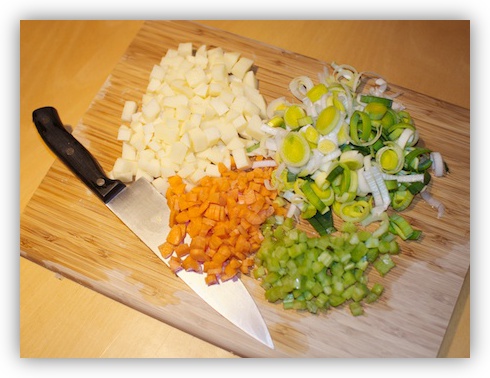 Also while the onions are softening, prepare the vegetable stock, and boil a kettle of water. When the onions are soft, add the rest of the now chopped vegetables, the stock, and 1 litre of boiling water. Turn up the heat and bring the whole lot to the boil remembering to stir occasionally.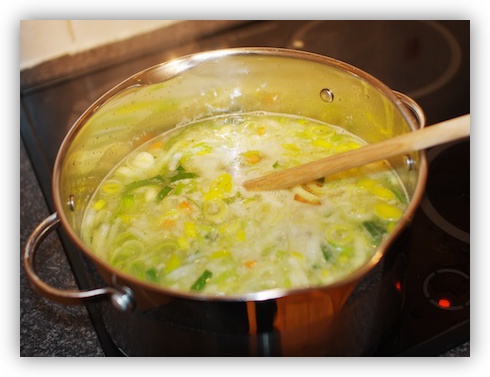 It will take at least 30 minutes of gentle boiling to cook the soup. When it's ready, the vegetables should be thoroughly soft, and should melt in your mouth. Depending on how thick you like your soup, add some or all of the last litre of water at this stage, or even a little more if you want.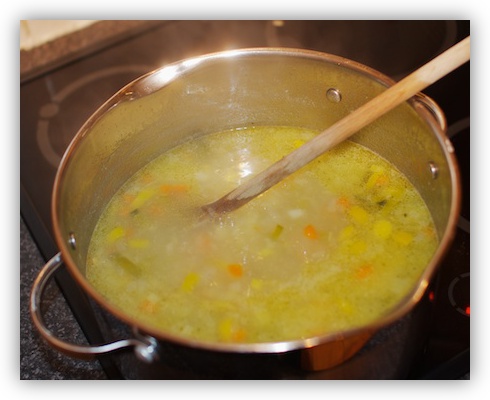 When you're happy with the consistency of the soup, then it's time to season it. Add salt and black pepper to taste, as well as about two table spoons each of parsley and chives. Remember, you have between 3 and 4 litres of soup here, so it will take a lot of seasoning.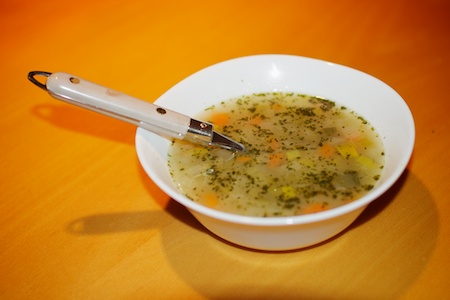 As I mentioned at the start, there are many variants of this soup. My grandmother always adds some of the smallest alphabet spaghetti I've ever seen, as well as some small marble-sized meatballs if she's making the soup for a festive occasion. Some people add rice rather than spaghetti, and my mother likes to add some Tomato Puree to turn it into Tomato & Vegetable soup. Finally, you can also add a can of your favourite beans to make the soup more filling. Black eye beans look nice in the soup, but really, and bean should work.
Comments