Apr
20
No, I haven't had some sort of epiphany, I'm still every bit as agnostic as ever, however, I think the title fits the photograph perfectly. I took this image months ago but was never quite happy with it until yesterday. So what's changed? I converted the image to partially black & white using the technique I described yesterday. I had a hunch this image would work well partially mono-chormoed but my jaw still dropped when I saw the result. It went from a picture with promise to one of my very favourite photos.
The image is of one of the stained glass windows on the back of the Gunne Chapel on the campus of St. Patrick's College in Maynooth, Ireland. I took it shortly before Christmas last year.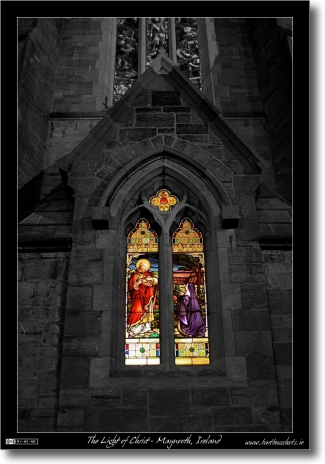 Click to Enlarge
For those of you interested in such things here are some of the technical details of the shot:
Camera: Nikon D40
Lens: Sigma EX 30mm 1:1.4 DC HSM
Exposure: 1/15 Sec
Focal Length: 30mm
Focal Ratio: F1.4
ISO: 800
Camera Mode: Aperture Priority
Exposure Compensation: -1.0
Post Processing: Partially converted to black & white with the GIMP.
Updated (21 April 2008): At the request of Paul in the comments I've tilt-shifted this shot too. Personally I'm not over-joyed with the results. You can find the tilt-shifted version here.
[tags]Photography, partial black & white, stained glass, Maynooth, Ireland[/tags]
Comments