Apr
15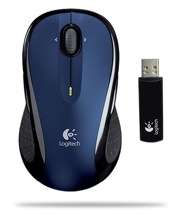 My wireless mouse's ever increasing flakiness finally got to be too much for me last week so I picked up a new one. I'd become very fond of the side buttons on my old mouse (which I kept linked to exposée) so I definitely wanted a mouse that had at least one of them, preferably two. I also hate having wires everywhere so I definitely wanted to go wireless again. In the end I settled on the Logitech LX8 from Logitech.
I've been using it for about a week now and I'm exceptionally happy with it. The transceiver is wonderfully small, the mouse is light yet solid and it has plenty of buttons. I particularly like the two side buttons and the fact that the scroll-wheel can be tilted to the left and the right to scroll sideways. The power button at the bottom is also a nice addition. Every cordless mouse I've had so far has been lacking this simple and obvious feature. There is also a warning light on top of the mouse which blinks red when the batteries are running low. Most importantly, the ergonomics also work well for me.
There were optional drivers for OS X but I didn't install those. There really is no need. I have all five buttons configured to do exactly what I want so why clutter my system? Also, I don't trust Logitech to write OS X drivers after it was found out last year that they were basing their software on a third-party hack that is explicitly not supported by Apple! If you're interested in the details of that fiasco check out John Gruber's article Blue in the Face.
At the end of the day though what really matters is that I'm very happy with this mouse. I feel it was money well spent which is always nice 🙂
[tags]Logitech, mouse, coredless mouse, LX8[/tags]
Comments