May
31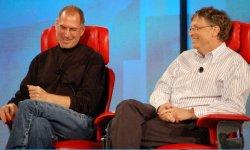 The All Things Digital conference has always been able to draw the big names. However, this year they have out-done themselves. Bill Gates with Steve Jobs in one interview. I'm very jealous of Allison Sheridan of the NosillaCast podcast who was there live! (she took the picture opposite). I was talking to her over ICQ/AIM/.Mac earlier today and she was very impressed by the interview. She felt she was present at a historic event. I think she's right. However, the great news is that the good people at the the D conference have put the videos on the web so we can all share in this great event!
The whole interview is well worth watching but it is long (7 parts averaging about 15 mins plus a prologue running at about 8 mins). What impressed me most is how well Bill Gates came across. At the time of the Vista launch I saw him do quite a few media interviews and he never really came across very well. Today he was relaxed, witty and interesting …. though his voice still reminds me of Kermit the frog 🙂
One other point to note is that I think Steve gave us a hint as to at least one thing we'll see at the WWDC, the next generation of .Mac. I sure hope I picked up that hint right because .Mac is well over-due a major over-haul (see .Mac – The Devil is in the Implementation).
[tags]Steve Jobs, Bill Gates, All Things Digital, .Mac[/tags]
Anyhow, without further ado here's the videos:
Comments