Nov
22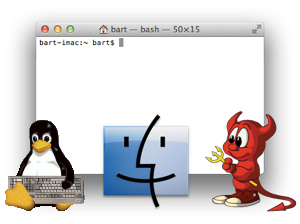 In the next instalment we'll be moving on to look at the so-called Environment within a command shell, but before we do that we need to lay some ground work. Specifically, we need to learn how to read and edit text files from the command line.
In this instalment we'll start with the most common commands for reading files, and then move on to look at the simplest of the command line editors. For those interested in learning a little more I'll also give a very quick overview of one of the more powerful command line editors, but feel free to skip over that section if you like, future instalments won't assume that knowledge.
Oct
6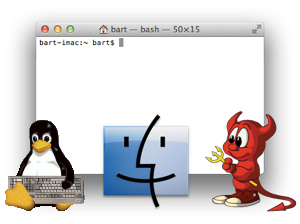 In the previous instalment we looked how Unix-like operating systems like Linux and Mac OS X represent processes. We then went on to look at the commands for listing running processes, and filtering and sorting them in various ways. This time we'll move on to controlling processes, specifically, starting and stopping them.
Sep
21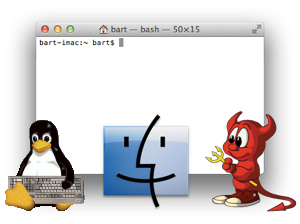 Note: this blog post was written to accompany an audio segment on episode 437 of the NosillaCast Mac Podcast.
For various reasons there's been a bit of a gap between the previous instalment and this one. A big part of the reason is that I'd been putting off a lot of topics I wanted to talk about on Chit Chat Across the Pond until there was a logical break in this Terminal series. Having finished with the file system at the end of the part 7, I had my logical break point. Now it's time to get stuck back in though, and start a whole new topic – processes.
We'll start with a little history for context, then have a look at the model OS X uses to represent processes, and finish by looking at some commands for listing the currently running processes on your system.
Jul
26
Inspired by a recent episode of The Mac Cast I decided to see if I could come up with a simple way of getting a word count of a PDF on OS X using only tools that come standard with the OS.
Because of OS X's Unix underpinnings, all Macs have access to the Unix wc command which calculates word counts on given input. OS X also has a handy built in Terminal command to access the contents of the clipboard (pbpaste). This leads to an obvious simple manual solution:
Open the PDF in Preview
Select All Text
Copy to clipboard
Run the Terminal command: pbpaste | wc -w
This is a bit cumbersome though, so I went on to create a simple OS X Service to calculate the word count of any selectable text in any app (the fact that this is even possible, let alone easy, is why I love OS X).
For those of you just looking for a copy of the Service, you can download it here:

To install the service simply extract the automator file from the ZIP archive and copy it into either the Library/Services folder in your home directory, or the system-wide service folder /Library/Services.
Once the Service is installed you can use it in almost any OS X app (specifically in any app written using the standard Cocoa libraries) by selecting some text, right-clicking on it, and selecting the Word Count service: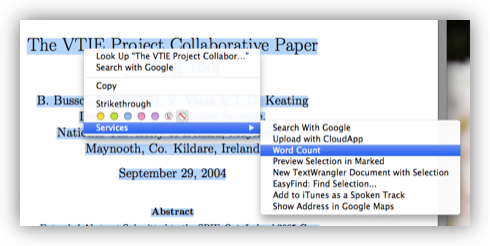 When done the results will look something like this: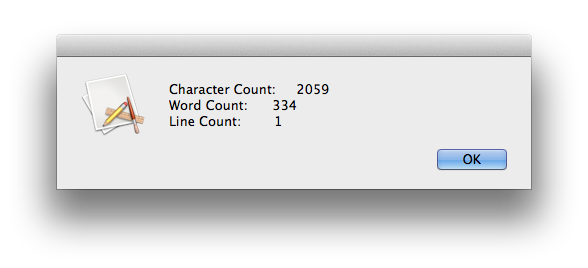 Those of you who want to see how easy this Service was to write, read on and I'll walk you through it.
Jul
19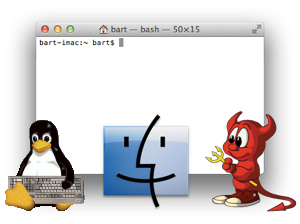 Note: this blog post was written to accompany an audio segment on episode 429 of the NosillaCast Mac Podcast.
So far in this series we've focused mostly on the file system, looking at the details of file systems, how to navigate them, and at file permissions and metadata. We're almost ready to move on and start looking at how processes work in Unix/Linux/OS X, but we have a few more file-related commands to look at before we do. In this instalment we'll be looking at how to manipulate the file system, in other words, how to create files and folders, how to copy them, how to move them, how to rename them, and finally how to delete them.
Jul
13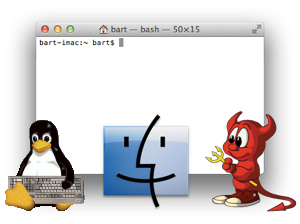 Note: this blog post was written to accompany an audio segment on episode 427 of the NosillaCast Mac Podcast.
In the previous instalment of this series we had a look at how standard Unix File Permissions worked. We looked at how to understand the permissions on existing files and folders, but not at how to change them. We also mentioned that the standard unix file permissions are now only a sub-set of the file permissions on OS X and Linux (OS X also supports file ACLs, and Linux has SELinux as an optional extra layer of security).
In this instalment we'll start by biting the bullet and dive into how to alter standard Unix File permissions. This could well turn out to be the most difficult segment in this entire series, regardless of how big n gets, but it is very important, so if you have trouble with it, please don't give up. After we do all that hard work we'll end with a simpler topic, reading OS X file ACLs, and OS X extended file attributes. We'll only be looking at how to read these attributes though, not how to alter them.
Jun
30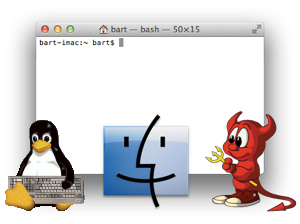 Note: this blog post was written to accompany an audio segment on episode 426 of the NosillaCast Mac Podcast.
In this instalment it's time to make a start on one of the most important Unix/Linux concepts, file permissions. This can get quite confusing, but it's impossible to over-state the importance of understanding how to read and set permissions on files and folders. To keep things manageable, I'm splitting understanding and altering permissions into two separate instalments.
Linux and Unix (and hence OS X) all share a common file permissions system, but while they share the same common core, they do each add their own more advanced permissions systems on top of that common core. In this first instalment we're only going to look at the common core, so everything in this instalment applies equally to Linux, Unix, and OS X. In future instalments we'll take a brief look at the extra file information and permissions OS X associates with files, but we won't be looking at the Linux side of things, where more granular permissions are provides through kernel extensions like SELinux.
May
26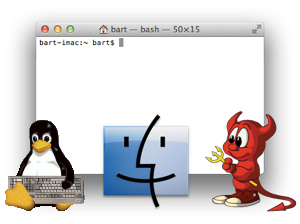 Note: this blog post was written to accompany an audio segment on episode 420 of the NosillaCast Mac Podcast.
In the previous segment we discussed the concept of a file system in detail. We described how filesystems contain folders which contain files or folders, and we described the different ways in which Windows and Linux/Unix/OS X combine all the filesystems on our computers into a single name-space, within which every file has a unique 'path' (F:\myFolder\myFile.txt -v- /Volumes/myThumbDrive/myFolder/myFile.txt). In this instalment we'll look at how to navigate around the Unix/Linux/OS X filesystem in a Bash command shell.
May
18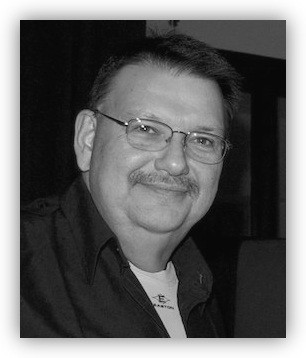 This is not going to be an easy post to write, and I really hope I do it justice.
The Apple/Mac community lost one of it's finest podcasters today. Tim Verpoorten wasn't the first Apple/Mac podcaster, but he was one of the very earliest generation. I think it would be fair to call him a father figure to many of us who followed. I know he was one of the podcasters who inspired me to pick up the microphone myself, and I doubt I'm alone in that.
Tim had been unwell for some time, and hung up his microphone to concentrate on his health a while ago, but we all hoped it would just be a temporary hiatus. I don't think any of us in the community wanted to believe we'd heard the last of Tim's distinctive and friendly voice.
Every good Apple/Mac podcast brings something unique to the table, and Tim's Mac Review Cast brought fantastic reviews week after week after week for years and years. Tim had a knack for finding great apps, particularly free ones, and he was able to find and review them at a truly impressive rate. Most people can mange either quantity or quality, but Tim could do both at the same time. Although he reviewed many many apps, you could always tell when an app really appealed to him. Those apps were almost never large apps with lots of features, but small apps that did just one thing, but did it really well. It's fair to say Tim had a bit of a thing for menubar apps.
Because I learned about so many great apps on the Mac Review Cast, I regularly look up at my menu bar, or into my dock, and think of Tim. One app in particular that I'll always associate with him is the light-weight Mac-like text editor Smultron. I'd almost given up on finding an editor like this for the Mac, when I heard Tim review Smultron, and gave it a go. It was love at first sight, and that cute red strawberry icon will always bring back fond memories of Tim.
Tim was one of the founders of the Mac Round Table Podcast (MRT), and it was through that podcast that I was fortunate enough to get to 'work' (play more like) with Tim. One of the great things about the MRT is how different all the contributors are, and how that opens up some great conversations. We often agreed on things, but when it comes to temperament, I think myself and Tim were polar opposites – I'm know for being the cranky Irishman (sorta) who's prone to impassioned (and hopefully entertaining) rants, while Tim was always as cool as a cucumber – I can't remember him ever getting flapped, and I can't remember him ever having a bad word to say about anyone. I think it's much easier to go on a rant than it is to remain calm and collected, and I greatly admired Tim's coolness.
I never met Tim in the real world, yet I feel I've lost a friend. The Mac community has certainly lost one of it's finest ambassadors, but my thoughts are with the Verpoorten family tonight – their loss is so much greater than ours.
The photo that accompanies this post is a crop from this image by Allison Sheridan.
May
11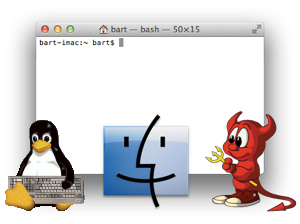 Note: this blog post was written to accompany an audio segment on episode 418 of the NosillaCast Mac Podcast.
This is the third instalment of an on-going series. These blog posts are only part of the series, they are actually the side-show, being effectively just my show notes for discussions with Allison Sheridan on my bi-weekly Chit Chat Across the Pond segment on her show, the NosillaCast Mac Podcast. This instalment will be featured in NosillaCast episode 418 (scheduled for release late on Sunday the 12th of May 2013).
In the first installment we started with the 40,000ft view, looking at what command shells are, and why they're still relevant in today's GUI-dominated world. In the second instalment we looked at OS X's Terminal.app, the anatomy of the Bash command prompt, and the anatomy of a Unix/Linux command. This time we'll be looking at the anatomy of file systems in general, and the Unix/Linux file system in particular, and how it differs from the Windows/DOS file system many of us grew up using.
keep looking »